Click to Download Your Free Heritage Pickling and Culturing e-Book Now!
Instant Download, NO Registration Required!
So squash soup never sounded like a good idea to me, until my sister made a pot and served it up to family while visiting. I was hooked! When I started canning again, I just HAD to figure out how to can this delightfully tangy and savory soup!

I usually make this without the creamed corn, simply because I rarely have creamed corn in the house!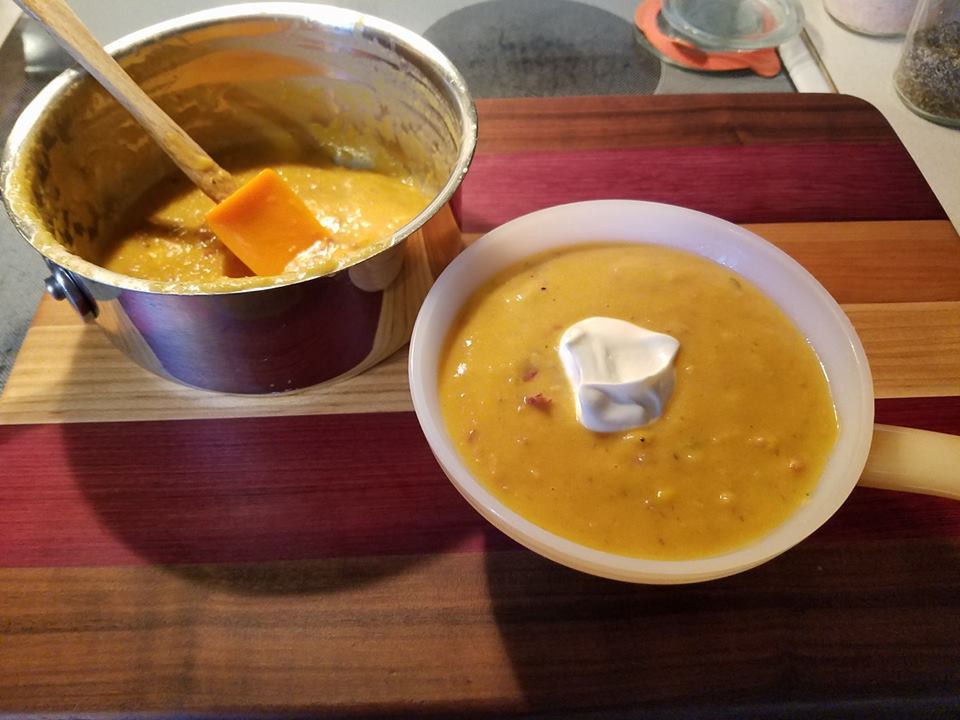 Butternut Squash and Bacon Soup garnished with sour cream. Photo kindly provided by Tammy Hardt.
Butternut Squash and Bacon Soup
2 butternut squash (about 2 pounds each), peeled, seeded and cut in 1-inch chunks
1 onion, diced
4 ribs celery, chopped
1 apple, chopped
1/2 teaspoon Redmond Seasoning Salt
1/2 teaspoon curry powder
black pepper, to taste
2 1/2 cups chicken stock, or more, to taste
Water as needed to keep moist.
Cook until veggies are soft - you can roast in the oven, pressure cook, crock pot them, or cook them in a pot on the stove.

Puree the veggies. Add water if you need to, so that it has the consistency you like (go a little thin for canning).
1 pkg cream cheese, well softened (you can microwave it for a minute to really soften it)
Add cream cheese to part of the soup and puree (I did this in a blender, put about 3 cups of the soup into the blender, added the cream cheese and blended till smooth), then add that back into the soup and stir it in.
1 lb bacon, cooked diced, fat reserved (or ham and more butter)
2 cans creamed corn - OPTIONAL (or 1 can whole kernel corn, with liquid, run in the blender for a bit, just to break up the kernels but not puree them - you want a bit of texture)
1 tsp dried parsley
1 stick butter (1/2 cup)
Add the rest of the ingredients to the soup, including bacon fat, heat through again to meld flavors.

This can be canned, the cream cheese will hold up well. Sour cream may be substituted if serving fresh.
Notice
The information on this site is presented for informational purposes only, and consists of the opinions and experiences of the site authors. It is not to be construed as medical advice or to be used to diagnose or treat any illness. Seek the assistance of a medical professional in implementing any nutritional changes with the goal of treating any medical condition. The historical and nutritional information presented here can be verified by a simple web search.
I do what I do because I understand the science behind it, and I've researched worldwide sources to verify the safety of my practices to my own satisfaction. Please do your own research, and proceed AT YOUR OWN RISK.