Click to Download Your Free Heritage Pickling and Culturing e-Book Now!
Instant Download, NO Registration Required!
Real Food Recipes
A collection of recipes both ancient and contemporary, to help incorporate real and whole foods into a modern life.
Taco Meat is like Chili. It can be used in so many things. Here's a list of ideas to get you started.
If you make extra taco meat, you can get another meal out of it. Or two. It freezes easily in ziplock bags.
Taco Meat
1 lb hamburger
1/2 cup diced onion (or 2 tbsp dried diced onion)
1/4 tsp garlic granules
1/4 tsp salt
1 TBSP chili powder
1/2 tsp ground cumin
1 can diced tomatoes, drained (save the juice for soup)
Toss everything but the tomatoes into a non-stick skillet, stir to blend the spices into the meat, cook on med-high heat until the hamburger is cooked through. IMPORTANT. Chili powder and cumin MUST be cooked in the food you are seasoning, or the flavors will not develop fully.
Taco Meat With Beans and Cheese
(Ok, so this is really just my Burrito Filling, but it works here too)
1 lb cooked Taco Meat
1 can refried beans, or drained whole beans
1/2 lb shredded cheese
Heat through and blend together, OR layer into a baking pan, and put in the oven for about 20 minutes at 375 degrees.

Biscuit Casserole - Use Taco Meat with Beans and Cheese, already heated through. Put in a square baking dish, and top with either refridgerator biscuits, or use 1 cup Bisquik blended with milk to make a batter (the consistency of cake batter), poured over the top. Bake until the biscuits are completely done.

Cornbread Casserole - Use Taco Meat with Beans and Cheese, already heated through. Put into a square baking dish, and top with 1 batch corn bread batter, bake until corn bread is fully cooked.

Taco Pie - Use 1 batch Taco Meat, or you can use Taco Meat with Beans and Cheese, either way, already heated through. You need 1, 9" pie pan with bottom crust, uncooked. Fill with HOT Taco Meat, and top with cheese. Bake at 400 for 15-20 minutes, or until crust is done. You can also do this with a top crust.

Red Pepper Taco Boats - You need 1 batch Taco Meat, Shredded Cheese, Sour Cream, Guacamole, Salsa, Olives, etc. Heat the Taco Meat with the cheese on top of it. Cut your peppers in half, and fill with Taco Meat and Cheese. Top with other ingredients according to personal taste. Serving size is TWO half peppers.

Taco Pizza - 1 Pizza Crust, with Tomato Sauce and a layer of Cheese, OR 1 Cheese Pizza. Top with 1/2 lb Taco Meat, Olives, Diced Tomatoes, Diced Onion (cooked or raw), Drained cooked Beans, or other Toppings. Layer another layer of cheese on, and cook at 375 degrees for 20-30 minutes (depending on thickness of Pizza). Lettuce is optional.

Taco Salad - All the good stuff piled on a bed of lettuce or spinach. Use Taco Meat, Cheese, Olives, Diced Tomato, Diced Avocado, Diced Onion, Tortilla or Frito Chips, Sour Cream, Salsa, Ranch Dressing, Chipoltle Dressing, etc. Be generous with the toppings on this and it is a heart, nutrient dense meal.

Taco Nacho - Same as Taco Salad, but on a bed of chips, or in a bowl with chips all around it on the plate.

Taco Dog - Use Taco Meat with Beans and Cheese. Spoon over a hotdog in a bun, and top with cheese, sour cream, salsa, etc.

Taco Pockets - Several ways to do this. You can use Pie Pastry, Bread Dough, or Biscuit Dough. Roll out the dough into a circle, fill with hot Taco Meat and top with cheese and any other ingredients you want, fold over and seal closed. Bake at 375 degrees for about 20 minutes, or until dough is fully done. You can use a large clamshell turnover press to make these.

Taco Ravioli - Make a simple Pasta Dough, and roll it out thin. You can use a small clamshell turnover press to make ravioli. Fill the Ravioli with either Taco Meat plus cheese, or with Taco Meat with Beans and Cheese.

Taco Tater Pie - Use Taco Meat with Beans and Cheese. Place in baking dish, and top with mashed potatoes, or with tater tots, or a layer of hash browns. Bake at 375 degrees for 40 minutes, or until potatoes are browned, or until hash browns are brown and tender.

TacoMale Pie - Mix Masa Flour with Water, to make a batter - it absorbs a lot of water, so you usually add water more than once to adjust, before you pour it into the pan. Put it into a square baking dish, and top with hot taco filling, and top again with cheese. Taco Filling may be either Taco Meat, or Taco Meat with Beans and Cheese.

Taco Guaco - Heat Taco Meat and top with cheese. Fill avocado halves with meat and cheese mixture, and top with sour cream and salsa.

Taco Soup -Use your leftover tomato juice from your diced tomatoes in this. You can make this from leftover Taco Meat, but you can also just throw in cooked hamburger. You need Meat, Onions, Garlic, Butter, Tomatoes, Chili Powder, Cumin, Salt, Salsa and Beans for the soup (add water to BARELY cover). Serve the soup with olives, cheese, sour cream, salsa, guacamole, tortilla or fritos chips.

Taco Sausage - Grind half pork, half beef and blend. Add diced onion, garlic, chili powder, cumin, dash of curry powder, Redmond Real Salt Seasoning Salt, and mix well. Fry a small amount and taste test. Adjust seasonings, and put in sausage casings, or pipe out without casings. Freeze. Serve in a bun, or cut up and fried with cabbage. Use in Mac and Cheese, or serve cooked beside eggs for breakfast.

Taco Tamale - Mix Masa Flour with water, to make a SOFT pasty dough (add water more than once, it absorbs a LOT). Smear the dough onto corn husks, or parchment paper squares. Lay a line of Taco Meat down the middle. Roll up. Steam for half an hour, OR can according to Tamale Canning instructions (careful, this one has to be done JUST RIGHT, or you'll have disaster).

Taco Breakfast Burritos - Sub taco meat for breakfast sausage in breakfast burritos. Good stuff!

Fried Taco Rolls - Stuff eggroll wraps with Taco Meat and Cheese, and fry until crispy brown.

Taco Pinwheels - Use refrigerator  Crescent Roll dough, or Pizza dough, and roll it out into a rectangle. Cover with Taco Meat, and then with cheese, add tomato or onion. Roll up, and slice into 1" wide slices, lay them on a cookie sheet, and bake at 375 for about 25 minutes.

Taco Stromboli - Just like Taco Pinwheels, but we don't cut it. You can use a bread dough for this, rolled out into a rectangle. After you roll it up, you lay it seam side down on a cookie sheet, and bake for 25-35 minutes, or until it is done through.

Taco Tater Tot Casserole - This is best if you use 1 batch of Taco Meat mixed with 1 bath of Taco Meat with Beans and Cheese. Layer some more cheese over that, and top with Tater Tots (they are best if deep fried first... but we all know that). Bake until hot and browned on top.

Taco Mac - Mix Taco Meat with Macaroni and Cheese. Add tomatoes, or cooked onions if wanted. You just HAVE to enjoy THAT.

Taquitos - Roll taco meat and cheese in corn tortillas. Deep fry. You can use flour tortillas if you wish, and it is even better.

Taco Lasagna - Use flour tortillas in place of noodles if you want, but noodles work also. Layer Taco Meat, cottage cheese, Cheddar Cheese, Salsa, and Olives and Cooked Onions. Top with lots of cheese and bake until hot and until the cheese is browned.

Taco Burger - Use Taco Meat with Beans and Cheese instead of Sloppy Joe filling, and top with cheese and lettuce, and anything else that sounds intriguing and delicious on your taco.

Taco Sandwich - Just stuff all that taco goodness into Pita bread.
Make extra of that Taco Filling and you won't have to worry about what's for dinner.
I just kind of MADE this. Because I did not have all the ingredients I wanted for Split Pea Soup. It made a very thin savory and brothy soup that thickened as it cooled to a stew-like consistency. It is not pasty like most Split Pea Soup.
Get out that Instant Pot.
(Ok, so you can do this in a crock pot if you wish but it will take about 24 hours on high, with lots of stirring.)
1 lb dried split peas
4 qts water
Into the pot they go.
Run this on a long and hot bean cycle. My Midea has settings by the kind of food, so I don't have times and pressures, I just know this goes for the longest bean setting, and the highest pressure.
You should end up with split peas that are COMPLETELY DISSOLVED. They should be cooked until there is NO SHAPE left.
Throw in:
3/4 cups dried leeks, OR 1 small chopped leek
1/2 cup dried celery OR 1/3 of a bunch of celery, chopped
1/2 tsp dried curled parsley
about 8 good shakes of Redmond Real Salt Seasoning Salt
a good sprinkling of sea salt (you can salt to taste later, but peas absorb salt)
1 lb or more finely chopped ham with the broth
2 TBSP or more real bacon bits or 1/4 lb bacon (add the fat if you wish, I didn't have it)
1 stick butter
Run it again on the same cycle. No, it really won't burn, it is too thin. IMPORTANT! The vegetables need to be cooked really well, so go ahead and let it go long.
You'll end up with a really thin soup, which will thicken a lot as it cools.
You can pressure can this recipe, it is a thin enough soup to work well.
I just HAD to try it. I LOVE pickled eggs, and I LOVE balsamic vinegar. So I did it.
I filled a Quart jar with about 1 1/2 cups of balsamic vinegar. I added about 2 1/4 cups of sugar. Stir and stir and stir and stir and it eventually dissolves.
Dropped in 12 peeled boiled eggs.
I lasted about a day before I tried one.
FREAKY!
The egg was already black on the outside, just barely. And shiny.
And just barely pickly delicious.
A day later, and the egg was TOTALLY BLACK on the outside.
The inside of the egg white was still WHITE! The egg yolk did not change color either.
So this is about the 6th time I've made these, and this time I forgot one in the fridge. It turned out a little different, the outside of the yolk also turned black. Weird. But the white is still very white inside.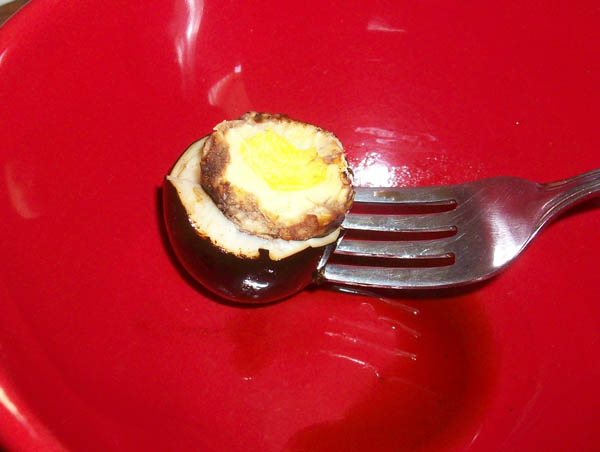 This egg pickling mixture does some weird things.
The first time you use it, with fresh vinegar and sugar, it will absorb the FLAVOR all the way through, but the outside gets black, and the white stays white. Even if you let it sit for a week, it seems to do this, and the yolk will be flavored, but not colored.
If you reuse the brine, even if you add more vinegar and sugar, the outside won't get black, it will just get BROWN, and the white will turn light brown also. You still get the dark color outside and a light color inside, but they are more blended. The color will go all the way to the yolk if you let it.
You can add pickling spices to it if you want, but it tastes just great with only the sugar and vinegar.
I think these will be a real contender for Halloween.
NOTE: Balsamic Vinegar can give you a reaction. Kinda itchy, maybe swelly. But it usually does that on the FIRST exposure. The second exposure will be better, or worse, it can go either way. The third exposure tells you whether you should continue to have anything with Balsamic Vinegar (or at least with a LOT of it). If the third exposure is worse, don't use it again. If the third is better, then you are likely to stop reacting to it within 1-2 more exposures. Your body just learns how to handle it.
Slop it on a bun. Or on a biscuit if you must.
First, a recipe for a really good Sloppy Joe sauce. Because we know the stuff in the can just ain't what it used to be (though we also know we USE it when we run out of time).
Sloppy Joe

2 cups red pepper
2 cups onion, diced
1 garlic clove, pressed or finely chopped
3 cups tomato sauce
6 tbsp tomato paste
4 cups beef broth
1/4 cup sugar
4 tbsp apple cider vinegar
2 tbsp soy sauce
2 tsp chile powder
3 tbsp butter
Put it in the crock pot and let it do its thing on low for most of the day. Add cooked ground beef when the vegetables are tender.
So what else can be sloppy?
Sloppy Taco - You guessed it, taco meat on the bun.
Sloppy Stew - Takes a good thick stew. Don't forget the tomato in the stew, it is what makes the flavor bold.
Sloppy Jose - Chili over the bun. Add some more meat if the chili is wimpy.
Sloppy Summer Sausage - Requires a good summer sausage with some tang. Chop it up small, and put it in the Sloppy Joe sauce.
Sloppy Clucker - Mix a can of tomato soup with your 2 cups of Sloppy Joe sauce. Takes about 4 cups of chopped chicken in that.
Sloppy Gobbler - Turkey gravy, chopped cooked turkey, with drained diced tomatoes in it.
Sloppy King - Gravy with meat in it, and drained diced tomatoes, plus mixed vegetables.
Sloppy Rooter - Cook your ground pork with a nice sprinkling of Redmond Real Salt Seasoning Salt. DRAIN the fat (I know, but this time it matters). Add Sloppy Joe sauce.
Sloppy Sailor - Manhattan clam chowder base, thickened with flour or cornstarch, with clams, scallops, shrimp, crab,, cod, or other seafood. Chicken or pork may also be added.
Sloppy Deer - 1 pint jar of venison chunks, heated in 1 tbsp of butter until the juice reduces down, then add 1 can Sloppy Joe sauce.
Sloppy Giovanni - Cooked Hamburger mixed with spaghetti sauce. Top with cheese just to be daring.
Sloppy Barbie - BBQ beef, pork, or chicken on the bun, melted cheese over the top.
Sloppy Spuds - Regular Sloppy Joe over Potatoes, or with Potato chunks stirred in. Works over hash browns also.
Campy Joe - Sloppy Joe over biscuits.
Pepper Joe - Sloppy Joe tucked into raw green, red, or yellow pepper halves, and topped with CHEESE.
If you won't enjoy it, don't eat it!
Notice
The information on this site is presented for informational purposes only, and consists of the opinions and experiences of the site authors. It is not to be construed as medical advice or to be used to diagnose or treat any illness. Seek the assistance of a medical professional in implementing any nutritional changes with the goal of treating any medical condition. The historical and nutritional information presented here can be verified by a simple web search.
I do what I do because I understand the science behind it, and I've researched worldwide sources to verify the safety of my practices to my own satisfaction. Please do your own research, and proceed AT YOUR OWN RISK.