Click to Download Your Free Heritage Pickling and Culturing e-Book Now!
Instant Download, NO Registration Required!
Real Food Recipes
A collection of recipes both ancient and contemporary, to help incorporate real and whole foods into a modern life.
I just HAD to try it. I LOVE pickled eggs, and I LOVE balsamic vinegar. So I did it.
I filled a Quart jar with about 1 1/2 cups of balsamic vinegar. I added about 2 1/4 cups of sugar. Stir and stir and stir and stir and it eventually dissolves.
Dropped in 12 peeled boiled eggs.
I lasted about a day before I tried one.
FREAKY!
The egg was already black on the outside, just barely. And shiny.
And just barely pickly delicious.
A day later, and the egg was TOTALLY BLACK on the outside.
The inside of the egg white was still WHITE! The egg yolk did not change color either.
So this is about the 6th time I've made these, and this time I forgot one in the fridge. It turned out a little different, the outside of the yolk also turned black. Weird. But the white is still very white inside.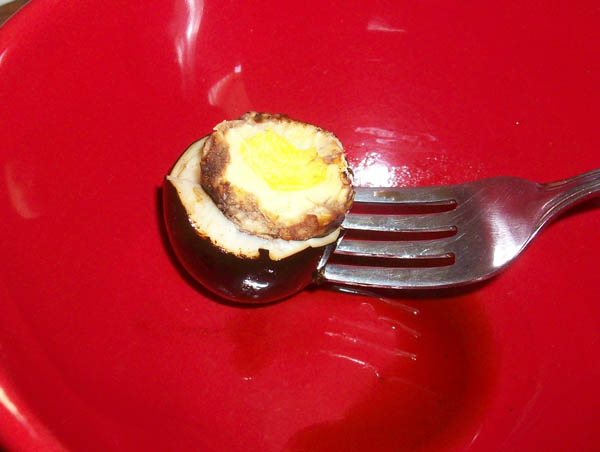 This egg pickling mixture does some weird things.
The first time you use it, with fresh vinegar and sugar, it will absorb the FLAVOR all the way through, but the outside gets black, and the white stays white. Even if you let it sit for a week, it seems to do this, and the yolk will be flavored, but not colored.
If you reuse the brine, even if you add more vinegar and sugar, the outside won't get black, it will just get BROWN, and the white will turn light brown also. You still get the dark color outside and a light color inside, but they are more blended. The color will go all the way to the yolk if you let it.
You can add pickling spices to it if you want, but it tastes just great with only the sugar and vinegar.
I think these will be a real contender for Halloween.
Slop it on a bun. Or on a biscuit if you must.
First, a recipe for a really good Sloppy Joe sauce. Because we know the stuff in the can just ain't what it used to be (though we also know we USE it when we run out of time).
Sloppy Joe

2 cups red pepper
2 cups onion, diced
1 garlic clove, pressed or finely chopped
3 cups tomato sauce
6 tbsp tomato paste
4 cups beef broth
1/4 cup sugar
4 tbsp apple cider vinegar
2 tbsp soy sauce
2 tsp chile powder
3 tbsp butter
Put it in the crock pot and let it do its thing on low for most of the day. Add cooked ground beef when the vegetables are tender.
So what else can be sloppy?
Sloppy Taco - You guessed it, taco meat on the bun.
Sloppy Stew - Takes a good thick stew. Don't forget the tomato in the stew, it is what makes the flavor bold.
Sloppy Jose - Chili over the bun. Add some more meat if the chili is wimpy.
Sloppy Summer Sausage - Requires a good summer sausage with some tang. Chop it up small, and put it in the Sloppy Joe sauce.
Sloppy Clucker - Mix a can of tomato soup with your 2 cups of Sloppy Joe sauce. Takes about 4 cups of chopped chicken in that.
Sloppy Gobbler - Turkey gravy, chopped cooked turkey, with drained diced tomatoes in it.
Sloppy King - Gravy with meat in it, and drained diced tomatoes, plus mixed vegetables.
Sloppy Rooter - Cook your ground pork with a nice sprinkling of Redmond Real Salt Seasoning Salt. DRAIN the fat (I know, but this time it matters). Add Sloppy Joe sauce.
Sloppy Sailor - Manhattan clam chowder base, thickened with flour or cornstarch, with clams, scallops, shrimp, crab,, cod, or other seafood. Chicken or pork may also be added.
Sloppy Deer - 1 pint jar of venison chunks, heated in 1 tbsp of butter until the juice reduces down, then add 1 can Sloppy Joe sauce.
Sloppy Giovanni - Cooked Hamburger mixed with spaghetti sauce. Top with cheese just to be daring.
If you won't enjoy it, don't eat it!
Swedish Meatballs are kind of like Tamales. You ask how to make them and the answer is often "whatever you want" in them. There are all kinds of recipes. But I want a classic.
This is the simplest recipe I've ever found for this. Yes, you have to cook it. But that's why you came here in the first place, isn't it?
Swedish Meatballs
Meatballs (from recipe below, OR Homestyle frozen meatballs if you must)
Sauce (from recipe below)
Cooked Noodles - 1/3 of a 12 oz package of egg noodles, cooked, and hot
Meatballs
1 lb ground beef
1 egg
10 crushed crackers OR 1/3 cup oatmeal
1/2 tsp parsley flakes
1/4 tsp onion powder, or 1 tsp chopped dried onion
sprinkle of salt
OPTIONAL - sprinkle of seasoning salt (We use Redmond Real Salt Seasoning Salt, and it ONLY takes a sprinkle)
Mix together, shape into meatballs. Bake in 400 degree oven, 20 to 30 minutes, depending on the size of your meatballs.
Meawhile, back at the stovetop...
Sauce
2 cups milk
4 tbsp butter
4 tbsp flour (this can change, depending on the type and brand of flour)
1 large pinch parsley flakes
Salt to taste
Put butter into a saucepan, melt. Remove from heat, add flour and stir it in well. Use a whisk and stir in the milk. Return to heat, and stir slowly, keeping the bottom of the pan constantly scraped. Cook until thickened and just bubbling while stirring. Remove from heat.
Add the cooked meatballs. DO NOT return it to the heat, it will just burn and be the worst Swedish Meatballs you've ever had.
NOTE: This is a classic recipe, the flavor is very smooth, almost but not quite sweet due to the milk. If you like a more savory sauce, you may use half beef broth instead of milk, or even water plus a little more seasoning salt. You may also add mushrooms if you like them. If you react to cooked milk proteins (they can cause indigestion in some people), then substitute ALL beef broth or water and just serve it with a butter gravy (yeah, that's a thing).
A flexible stew that goes together fast. Can be done in a crock pot, or an instant pot.
MAKES ABOUT 4-5 QUARTS OF SOUP!
Don't leave out the cream of mushroom soup. It mellows the flavors and improves the taste of the soup.
1 can black beans, drained and rinsed
1 can pinto beans, drained and rinsed
1 can kidney beans, drained and rinsed
1 can corn, undrained
1 can cream of mushroom soup
2 cans cream of tomato soup
1 cup salsa
1 can stewed tomatoes, cut up
1 onion, chopped
2 carrots, shredded
3 ribs celery, chopped
1 lb hamburger or chorizo
1/2 stick of butter
1 TBSP chili powder (or more to taste)
1/2 tsp cumin (or more to taste)
1/2 tsp salt (to taste)
sprinkle seasoning salt to taste
1 cup water
Break up the meat on the bottom of the pot. Pour the water over it. Put the beans and corn into the pot, and then dump the creamed soups over that. DO NOT STIR!!!
HEY! I SAID DON'T STIR IT! The meat needs to cook without being disturbed, especially if you are doing this in an instant pot.
Add the rest of the ingredients.
Cover, and cook either on low for 8 hours, or on high for 4 hours if using a crock pot, or on medium pressure for about 20 minutes if using an instant pot.
Substitute ingredients if you like, it is very flexible. As long as you have the condensed soups in there, and the beans and meat, and seasonings that work well together, it will turn out. We've done this a number of ways.
Serve with cornbread, biscuits, or cheese toast.
VARIATION: Use Cream of Chicken soup instead of tomato, and cut up chicken instead of the hamburger.
CAN THE LEFTOVERS USING THE SAME TIME AND PRESSURE AS CHILI.
Notice
The information on this site is presented for informational purposes only, and consists of the opinions and experiences of the site authors. It is not to be construed as medical advice or to be used to diagnose or treat any illness. Seek the assistance of a medical professional in implementing any nutritional changes with the goal of treating any medical condition. The historical and nutritional information presented here can be verified by a simple web search.
I do what I do because I understand the science behind it, and I've researched worldwide sources to verify the safety of my practices to my own satisfaction. Please do your own research, and proceed AT YOUR OWN RISK.